Reviewed by:
August 31th, 2017
Rating:
Barefoot Spas PL7
Reduced pain and joint inflammation thanks to our Barefoot Spa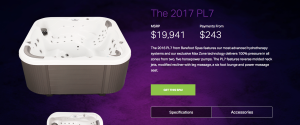 My wife and I are both 73 years-old and we use the hot tub mainly to keep up with our health. It is very relaxing because when I get in there, the water and jets feel quite nice. I am practically disabled because of some knee and leg issues, and the hot tub has proven to be a help with that. It helps me the day after I use it, and reduced the pain and inflammation I get on average. My wife loves it for the same reason. She has some trouble getting to sleep at night. She just stared using it right before bed, and trust me, now she's snoring in no time!
---
Was this Barefoot Spas review helpful?
Submit and contribute to this forum by writing your very own Barefoot Spas Reviews…